Crocoblock is a popular WordPress plugin suite that provides users with a range of tools to build their own custom websites. It includes a theme builder, page builder, dynamic templates, and a custom post type builder, along with other features. Crocoblock is focused on providing users with complete creative freedom, allowing for the development of highly customized WordPress sites. You can opt to buy this plugin if you want to create awesome websites.
Easy to Use Toolkit
Create Highly functional websites
Table Builder, Query Builder and Chart Builder
Create Custom Fields, Post Types and Taxonomies
Lets you create appointment and booking website
Create Directory/Listing Websites easily
Expensive for non-agencies and feelancers
Plugins are one of the most essential components of any software system, particularly in the world of digital technology.
They are designed to enhance the functionality of an application by adding new features and capabilities that were not previously available.
Plugins can be used for a variety of purposes, ranging from simple modifications to complex integrations that enable an application to work seamlessly with other software systems.
However, with the wide range of plugins available in the market, it can be challenging to determine which ones are worth installing and which ones should be avoided.
As such, it is essential to conduct a thorough review of any plugin before installing it on your website or software system.
The use of plugins has become increasingly popular in recent years, particularly in the field of website design and development. A website plugin is a piece of software that can be installed into a website to add new features or functionalities.
These plugins can be used to optimize website performance, add new visual effects, improve user experience, and much more.
Another essential factor to consider when reviewing a plugin is its compatibility with the software system or website. Before installing a plugin, it is crucial to ensure that it is compatible with your current software version and that it will not cause any conflicts with other plugins or functionalities.
Additionally, it is important to consider the security of the plugin. A poorly designed plugin can expose your website or software system to potential security risks. As such, it is crucial to verify the security of the plugin before installation by reading reviews from other users and checking the developer's reputation.
When reviewing a plugin, it is important to consider its features and functionality. The plugin should provide clear instructions on how to use it and be easy to install and configure. A well-designed plugin will not only be easy to use but will also integrate seamlessly with other software systems and website frameworks.
So sit back and let's review Crocoblock in detail so that you can make an informed decision about the super-hyped WordPress toolkit.
Corocblock Overview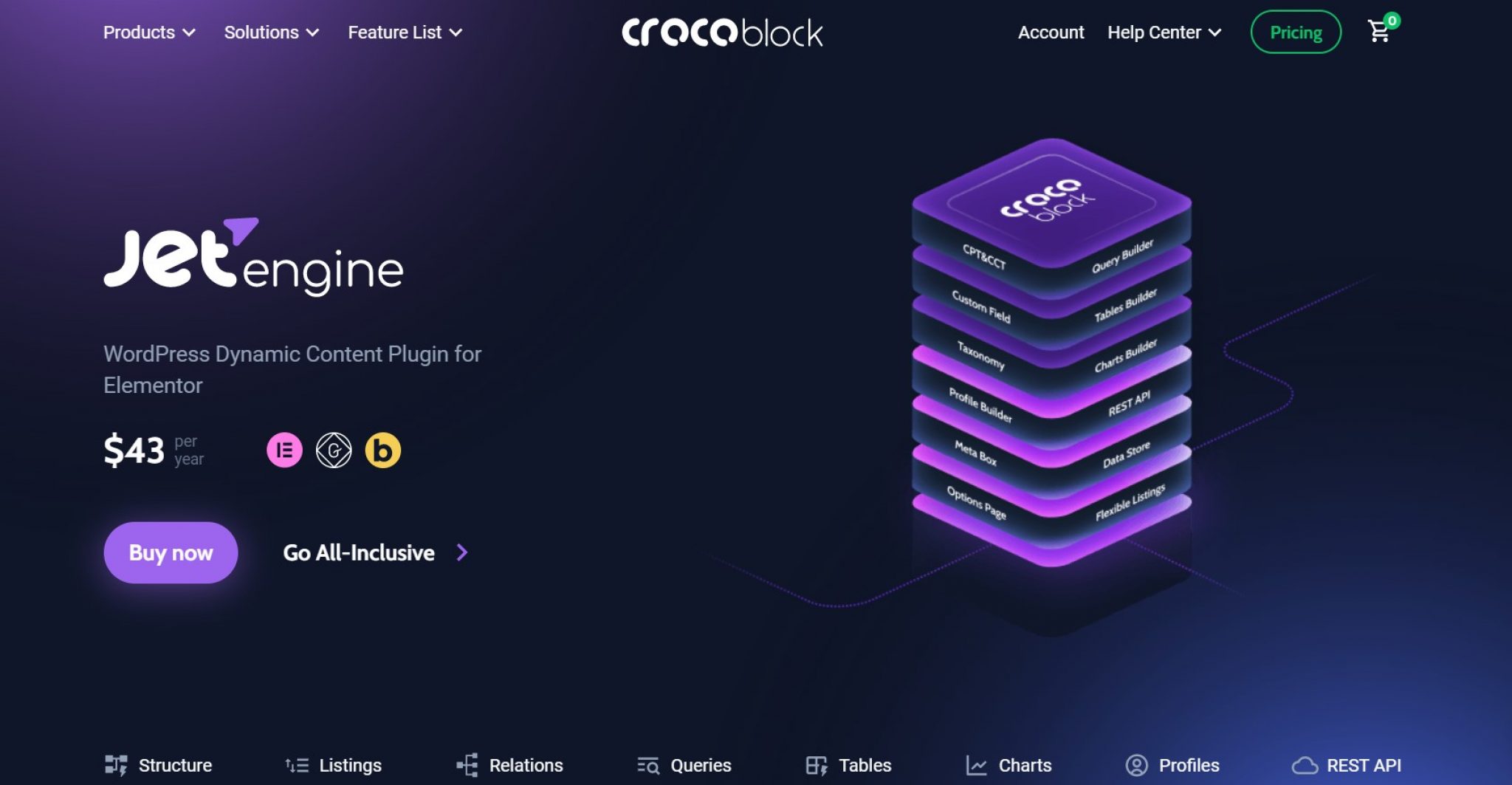 In the world of website development, WordPress stands out as one of the most popular content management systems. Millions of website owners rely on it frequently because of its user-friendly interface, robust ecosystem of plugins, and ability to be customized. Crocoblock is one such potent toolset that improves WordPress's functionalities.
A comprehensive collection of plugins, themes, and technologies called Crocoblock gives WordPress users countless options. It offers a wide range of features and functionalities that make it simple for website owners, designers, and developers to build beautiful websites with plenty of features.
Crocoblock's JetEngine flagship plugin is its brains. Users can create unique post kinds, taxonomies, and metadata with the JetEngine dynamic content plugin. You may build and manage any kind of content with JetEngine, such as unique goods, portfolio items, events, and more. You have the freedom to create distinctive templates for your own content, which will make your website stand out.
JetThemeCore is another essential part of Crocoblock. It is a drag-and-drop WordPress theme builder that enables you to make eye-catching headers, footers, and themes from scratch. JetThemeCore offers a vast collection of pre-designed themes and blocks, making it simple to create a website that looks professional without any prior coding experience.
Crocoblock offers JetElements, a potent addition to the Elementor page builder, for those looking to create spectacular websites. With the large selection of modules offered by JetElements, including complex sliders, carousels, image galleries, and dynamic headlines, you can easily add interaction and aesthetic appeal to your pages.
Crocoblock goes further than that. Along with that, it comes with JetWooBuilder, a WooCommerce add-on that enables you to make completely unique product pages and listings. With JetWooBuilder, you can create distinctive product layouts and present your goods in an alluring and captivating way to boost the functionality of your e-commerce website.
CrocoBlock Jetplugins😃
JetEngine
JetElements
JetStyleManager
JetSearch
JetSmartFilters
JetGridBuilder
JetBlocks
JetCompareWhitelist
JetPopup
JetThemeCore
JetBlog
JetMenu
JetReviews
JetTricks
JetWooBuilder
JetAppoinment
JetProductGallery
JetFromBuilder
JetTabs
JetBooking
JetEngine
Crocoblock created the JetEngine plugin, which enables users to create new post types, taxonomies, and custom fields and display them using a variety of listing and grid layouts. Since the plugin works with Elementor, users of this page builder will find it to be a handy addition.
JetEngine's user interface is simple to use, making it simple to construct unique post kinds and taxonomies. Additionally, it provides an incredible array of data collection and displays field kinds, including text, image, video, and file uploads.
The ability to design unique WooCommerce product templates is another noteworthy aspect of JetEngine. Users can create distinctive product pages for their online store with this tool, which can help them stand out in a crowded market.
JetElements
JetElements is a plugin for the Elementor page builder, which is designed to add a variety of advanced modules and widgets to your website.
These modules are intended to provide additional functionality to your website and enhance its visual appeal, while still maintaining the simplicity and ease of use that Elementor is known for.
With JetElements, you can add a wide range of widgets to your website, including advanced carousels, pricing tables, countdown timers, and much more.
These widgets are fully customizable and can be easily integrated into your existing Elementor page layouts.
JetStyleManager
There is a free plugin available that can assist in making Gutenberg blocks look great. This plugin is designed specifically for use with Gutenberg and is called JetFormBuilder.
One of the features of JetFormBuilder is its ability to create forms that look great within Gutenberg blocks.
Additionally, the plugin can also be used to enhance the appearance of blog posts, providing a consistent and polished look throughout the website.
With the help of JetFormBuilder, users can create visually appealing content within Gutenberg with ease.
JetSearch
JetSearch is a powerful search plugin for WordPress that allows users to quickly and easily search through a website's content.
JetSearch allows you to generate personalized search forms and integrate them into any page on your website through the Elementor page builder.
This feature gives you the flexibility to tailor the search experience for your visitors and facilitates their ability to locate the necessary information promptly.
JetSmartFilters
JetSmartFilters comes with a variety of pre-designed filter styles and layouts, making it easy for users to choose the design that best fits their website.
The plugin also offers customization options, so users can modify the filter styles and layouts to match their website's design.
It allows users to create different types of filters such as checkboxes, dropdowns, range sliders, search filters, and more.
The plugin is especially useful for websites that display a large number of products, services, or listings, as it helps users quickly and easily find the content they are looking for.
JetGridBuilder
JetGridBuilder is a visual web development tool that allows you to create dynamic and responsive grids for your web projects.
It can easily add and customize columns, rows, and cells in your grid, and adjust the spacing and padding between them.
You can also add background colors and images, apply custom styles, and create hover effects for your grid elements.
It includes a range of tools for enhancing the functionality of WordPress sites.
JetBlocks
JetBlocks is an addon for the popular Elementor page builder, which is widely used for its drag-and-drop interface and intuitive design capabilities. With JetBlocks, users gain access to a versatile set of widgets that allow them to create and customize headers, footers, and other sections of their websites with ease.
JetBlocks plugin that adds a set of widgets for creating headers, footers, and other parts of a website.
The plugin offers a variety of pre-designed blocks that can be customized to fit the design and functionality of a specific website.
JetCompareWhitelist
The plugin being referred to in this statement adds useful features to product cards on WooCommerce websites.
With the inclusion of WooCommerce Compare and Wishlist buttons, users are able to easily keep track of the products they are interested in.
Additionally, counters are displayed to indicate the number of times a product has been added to a Wishlist or has been compared to other products.
JetPopUp
JetPopup Plugin provides a user-friendly interface that allows you to create popups without any coding skills.
It comes with pre-designed templates that you can customize according to your needs.
The plugin also provides various elements such as images, text, buttons, and forms that you can add to your popups.
The plugin also comes with advanced features such as targeting, triggers, and animations that allow you to control when and where your popups will appear.
JetBlog
JetBlog is an excellent plugin for bloggers who want to create beautiful and engaging blog posts without any coding skills.
JetBlog offers several content widgets, such as Smart List, Video Playlist, Text Ticker, and many more.
It's content widgets and customization options make it easy to create stunning blog posts that will engage your audience.
JetThemeCore
JetThemeCore also includes an intuitive visual editor, which allows you to edit and customize your website's design in real time, without the need for any coding knowledge.
You can easily add, remove or edit various design elements such as text, images, videos, and widgets, to create a truly personalized website.
The plugin comes with a vast library of over 200 templates, which can be easily imported and customized to fit your website's unique design requirements.
JetBlog
The WordPress plugin JetBlog improves the capabilities of the blog module by default. It enables bloggers to include a variety of multimedia kinds in their posts, including audio, gallery, video, and more. With JetBlog's user-friendly interface, it's simple to write interesting content.
JetBlog comes with a number of pre-designed templates that are simple to alter to match the aesthetic of the blogger's website. The user experience is further enhanced by the addition of features like post navigation, pagination, and linked posts, which encourage readers to explore more information.
JetMenu
JetMenu is a powerful tool that allows you to create custom menus for your WordPress website with advanced features and functionality. The plugin gives you a variety of customization choices so you can construct a menu that precisely complements the look and content of your website.
You can construct dropdown menus, and mega menus with numerous columns and content types, add images, icons, and custom text to your menu items, and more.
With a variety of design options, JetMenu is also quite scalable. You may create a visually beautiful menu that compliments the design of your website by selecting from a variety of menu layouts, colors, fonts, and motion effects.
JetReviews
The plugin provides a variety of customization options that let you make a review area that precisely complements the look and content of your website. You can design your own custom review criteria or add existing ones like star ratings, percentages, or points.
JetReviews is also responsive, meaning your review section will look great on all devices, including smartphones and tablets.
To give your visitors more information, you may also add photographs, videos, and even custom fields to your reviews.
The plugin is also performance-optimized, guaranteeing that your review section loads swiftly and doesn't cause your website to load slowly.
JetReviews also enables you to display reviews in a variety of ways, such as a widget, a list, or a grid.
JetTricks
JetTricks is an amazing tool that allows you to add various visual effects and animations to your website with advanced features and functionality. The plugin offers a range of customization options that enable you to create visually stunning effects that perfectly fit your website's design and content. You can add parallax effects, hotspots, sticky elements, and even add a particle effect to your website.
JetTricks provides you to add different types of animation effects to your website's content, such as smooth scrolling, image and text animation, and even animated backgrounds.
JetWooBuilder
JetWooBuilder provides to create custom product layouts. Users can choose from a variety of pre-designed templates or create their own using the plugin's drag-and-drop editor. This allows users to design product pages that showcase their products in a unique and eye-catching way, while also improving the user experience for potential customers.
The ability to design unique product templates and archive pages is just one of the extensive capabilities that JetWooBuilder offers WooCommerce store owners. Instead of depending solely on WooCommerce's built-in default themes, customers may design a unified look and feel for their whole WooCommerce store.
JetAppoinment
The plugin enables users to design unique appointment kinds and services, configure provider availability, and specify unique costs and timeframes for each service. Because of this, developing a fully customized appointment booking system that is suitable for your company's particular requirements is simple.
The advanced capabilities of JetAppointment additionally allow for the setting of buffer times between appointments, the addition of customized fields to the booking form, and the configuration of email notifications for both clients and service providers. This enables users to design a seamless, expertly executed booking process that is unique to their organization.
The plugin also interfaces with well-known calendar applications like iCal and Google Calendar, making it simple to manage availability and appointments across many platforms.
JetProductGallery
The plugin provides users with a variety of layout and design options, enabling them to create distinctive and attractive galleries that are in line with their brand and style. The user can select from a variety of gallery layouts, including Grid, Masonry, Justified, and Carousel, and then customize them with numerous animation settings, hover styles, and effects.
To guarantee that galleries are displayed in the most relevant and organized way possible, the plugin also provides options for adding custom product attributes, such as product categories, tags, and custom taxonomies.
Users can create unique and appealing galleries that are consistent with their brand and style using the plugin's wide range of layout and design options. Grid, Masonry, Justified, and Carousel are just a few of the gallery layouts that the user can choose from, and they can all be altered using a wide range of animation settings, hover styles, and effects.
The plugin also offers possibilities for adding unique product features, such as product categories, tags, and custom taxonomies, to ensure that galleries are displayed in the most pertinent and ordered manner possible.
JetFormBuilder
JetFormBuilderprovides a range of advanced features for creating complex and sophisticated forms.
For example, the plugin offers conditional logic, which allows users to show or hide form fields based on the responses to previous fields. This can be useful for creating multi-step forms or for customizing forms based on specific user preferences or requirements.
Additionally, the plugin offers support for file uploads, payments, and calculations, which can be helpful for creating order forms, registration forms, and other types of forms that require more advanced functionality.
JetTabs
JetTabs is a fantastic tool for designing beautiful tabbed content for your WordPress website. We will examine some of the main advantages and features of JetTabs in this review.
The outstanding selection of chic and contemporary pre-designed templates offered by JetTabs is one of its most distinctive qualities. Without any prior coding experience, it is quite simple to create visually stunning tabbed content with these themes. JetTabs provides a template for every purpose, whether you want to organize your content, emphasize critical features, or showcase your items.
The popular drag-and-drop page builder for WordPress, Elementor, is also seamlessly integrated into the plugin. With this integration, you may utilize JetTabs' tabbed content feature while fully utilizing the comprehensive design capabilities of Elementor. Combining these two effective tools provides you the flexibility to easily build and customize your tabs.
JetBooking
A feature-rich WordPress plugin called JetBooking by Crocoblock enables website owners to effortlessly generate and manage reservations and bookings.
JetBooking provides a strong solution for companies in a variety of industries, including hotels, rentals, events, and more, thanks to its user-friendly interface and extensive collection of capabilities. We shall examine JetBooking's salient characteristics and advantages in this review.
JetBooking is distinguished by its adaptability in managing reservations. The plugin offers a simple booking system that enables you to set up and modify booking forms in accordance with your unique needs.
You may set prices, specify availability, create several booking services, and even construct various pricing alternatives like hourly rates or bundle discounts.
CrocoBlock Features🤩
Custom Fields
Users have the ability to include various custom fields such as text, images, and dates in their post types, among others. This process is made effortless through a drag-and-drop interface, enabling the creation of custom post types without the requirement of coding.
Dynamic Content
The dynamic content feature permits users to generate templates that exhibit content from any of their website's custom post types or custom fields. This feature proves to be especially advantageous for websites with abundant content, as it eliminates the need for manual input of each content piece and creates a uniform layout for the pages.
Query Builder
Query Builder is a powerful tool that allows users to build complex SQL queries without requiring extensive knowledge of the SQL language. Its intuitive drag-and-drop interface and advanced features make it a valuable asset for developers and non-technical users alike who need to extract data from their databases quickly and easily.
Custom Taxonomies
It allows users to create custom taxonomies, such as categories or tags, that are specific to their website's needs. This can help organize content and make it easier for users to find what they are looking for.
Custom Widgets
It includes a variety of customizable widgets that can be used to display custom post types and fields on the front end of a website. These widgets include a carousel, a slider, and a grid, among others.
Integration with Elementor and WooCommerce
It integrates seamlessly with Elementor and WooCommerce, two of the most popular WordPress plugins. This makes it a versatile tool that can be used to enhance a wide range of websites.
Custom Post Types
It provides to create custom post types that are specific to their website's needs. This includes the ability to add custom fields, taxonomies, and other features that are not available in standard WordPress post types.
Rest API
You can easily create REST API endpoints that can be used to fetch, create, update, or delete custom post types. These endpoints can be used by developers to build custom integrations or by third-party applications to interact with your website's data.
FAQs
What can I use the Crocoblock plugin for?
Crocoblock is a suite of WordPress Jetplugins and themes that can be used for a wide range of purposes, including building custom websites, creating e-commerce stores, and developing web applications.
Is Crocoblock free to use?
No, Crocoblock is not free to use. Crocoblock offers a suite of premium WordPress plugins and tools that provide advanced functionality and customization options for websites. These plugins, including JetTabs and JetBooking, among others, are available for purchase on the Crocoblock website. The pricing structure typically involves a subscription-based model, where users can choose from different pricing plans based on their needs and the number of sites they want to use the plugins on. While Crocoblock does offer a demo version and a limited free version of some of their plugins, the full functionality and extensive features are only available with a paid subscription.
Can I use JetEngine on multiple websites?
Yes, you can use JetEngine on multiple websites, but you will need to purchase a separate license for each website.
Is Crocoblock easy to use?
Yes, JetEngine is designed to be user-friendly and easy to use, even for beginners. The visual interface and drag-and-drop functionality also makes it easy to create Custom post types, Custom fields, and taxonomies without any coding knowledge.
Over to You
Anyone trying to use WordPress to create a high-quality website should check out Crocoblock. Crocoblock provides everything you need to build a beautiful, useful, and highly adjustable website without any coding knowledge thanks to its extensive selection of plugins, dynamic templates, and customization possibilities.
Crocoblock also offers a range of e-commerce plugins that make it easy to set up an online store. For example, JetWooBuilder is a powerful plugin that allows you to create custom WooCommerce pages, while JetProductGallery allows you to showcase your products in a stunning, fully customizable gallery.
Crocoblock has plenty to offer, whether you're a developer, designer, or business owner, and with its simple setup process and first-rate customer service, it's simple to get started and build a website that stands out from the competition.
I hope that the article helped and value to you and that you have found its contents to be informative, insightful, and beneficial in some meaningful way!