Canva is an online graphic design and content creation tool that allows users to create a wide range of visual content, including social media graphics, presentations, posters, flyers, and more. It offers a user-friendly interface with drag-and-drop functionality, making it accessible to both beginners and experienced designers.
Canva offers a wide range of advantages for both beginners and professionals.
The platform's user-friendly interface and drag-and-drop editor make it accessible to anyone, regardless of their design experience.
Canva's library of templates for various purposes and industries allows users to create professional-looking designs quickly and easily.
The platform provides access to a vast library of high-quality images, icons, and fonts to choose from, making it easier to produce visually appealing designs.
Users can collaborate on designs with team members or clients remotely, making it an ideal choice for remote teams.
Canva offers affordable pricing plans with multiple features that make it a cost-effective option for businesses.
There are limited editing features compared to other design software.
While Canva offers a user-friendly interface with drag-and-drop functionality, it may not have all the advanced tools some designers require.
While the free version can cover basic design needs, users may find the paid versions expensive for their needs.
Canva is a very popular graphic designing tool among audiences of any type that wants to create a design for any purpose.
Canva meets the need of millions of users by providing them with a user-friendly platform that allows them to create stunning designs quickly and efficiently. In this Canva review, we will provide you with a thorough examination of this highly popular and productive graphic design tool.
Canva has become an integral part of the modern workspace as it offers a wide range of features and functionalities that are essential for businesses, marketers, and individuals creating graphics. Whether it is about creating social media graphics or designing a professional presentation, Canva's drag-and-drop editor makes it easy for users to create visually appealing designs without any prior design experience.
Previously designing even a logo was a tedious task to do for beginners or non-professionals. However, with the help of Canva, anyone can easily make use of the templates that are present in Canva to create a logo or any graphic in a matter of seconds. The features in this application are very useful for polishing the content.
It offers three different plans with different pricing options, and it has several competitors such as Adobe Express, Visme, VistaCreate, and more.
All in all, Canva is an important tool in 2023 for businesses and individuals alike.
Canva Overview
In today's digital age, visual content is a crucial component of effective communication and marketing. Canva is an intuitive and versatile graphic design platform that allows users to create high-quality designs with ease.
With the increasing importance of digital presence for businesses and individuals alike, Canva provides an accessible and affordable solution for creating professional-looking designs even without prior design experience.
The drag-and-drop editor interface ensures that both beginners and professionals can use it effortlessly. Additionally, Canva offers its users regular updates with new features to stay ahead of its competitors in the market. Whether you are an individual or a team looking for customizable design solutions, Canva has something to offer everyone.
Canva Features 2023
User-friendly interface
Creating professional-looking designs can be challenging, especially for those who lack design experience. However, with Canva's user-friendly interface, even beginners can create stunning graphics easily. The platform offers a variety of pre-made templates and design elements that can be quickly arranged and customized to meet your needs.
Drag-and-Drop Editor
Its intuitive drag-and-drop editor allows users to easily add and arrange elements to their designs. You can simply drag and drop elements like text, images, shapes, icons, and backgrounds onto the canvas and position them as per your requirements.
Design Templates
Canva's vast library of templates provides users with an effective starting point for creating their designs. With templates available for a wide range of purposes, from social media posts, presentations, posters, and flyers, to business cards, users can find what they need in one place. These templates are fully customizable, allowing users to add their text, images, and graphics to make them unique.
A wide range of design elements
Canva's extensive collection of design elements, including fonts, icons, and illustrations, offers endless possibilities for customization. The diverse range of design elements makes it easy for anyone to create professional-looking designs quickly and efficiently.
Limitless stock photos, videos, and audio access
Access to high-quality visual and audio assets can be a game-changer for any business. Canva offers its users a vast library of stock photos, videos, and audio to enhance their designs.
What sets Canva apart is its commitment to continually updating its library with the latest content, ensuring that users always have access to fresh and relevant assets.
In addition to the platform's pre-existing content, users can upload their media to incorporate into their designs. This feature is especially valuable for businesses looking to create marketing materials that align with their brand's unique aesthetic.
Whether you're creating social media posts or designing marketing collateral, Canva's limitless stock photos, videos, and audio access can help take your designs to the next level.
Customizable Elements
Canva provides a wide range of customizable elements to enhance your designs. You can change the font styles, colors, sizes, and alignment of text, and apply filters and effects to images. There is also an extensive library of icons, shapes, and stickers that can be resized, rotated, and customized to add visual elements to your designs.
Image Editing Tools
It offers basic image editing tools within its platform. You can crop, rotate, flip, and adjust the brightness, contrast, saturation, and other settings of your images. This eliminates the need for external photo editing software for minor adjustments.
Collaboration and Sharing
Users may work together in real-time on designs using Canva. You can invite team members or clients to work on a design together, leave comments, and provide feedback.
Designs can be easily shared via a link or social media platforms👇.
OR they can be downloaded in various formats, including PDF, PNG, and JPEG👇.
Branding and Brand Kit
The tool provides features to maintain brand consistency across your designs. The Brand Kit allows you to store and access your brand's colors, fonts, logos, and other assets, making it easy to apply them consistently to your designs.
Animations
Canva animation features are a game-changer for businesses looking to create engaging and eye-catching visual content. With export options in multiple formats, including GIF, video, and HTML5, users can bring their designs to life and make them stand out from the crowd.
These animations can be used to create engaging social media posts, presentations, and advertisements that capture the viewer's attention. Canva animation options are intuitive and easy to use, even for beginners, making it accessible to anyone looking to enhance their designs with motion graphics.
Overall, Canva animation features provide users with limitless possibilities for creating dynamic visual content that captures the essence of their brand or message.
Social Media Scheduling
It offers integration with social media platforms, allowing you to schedule and publish your designs directly to platforms like Facebook, Instagram, and Twitter. This feature streamlines the process of sharing your designs with your audience.
Print Options
Canva enables you to create designs suitable for both digital and print media. You can export your designs in high-resolution formats for printing purposes.
Mobile Apps
Canva provides mobile apps for iOS and Android devices, allowing you to create, edit, and share designs on the go. The mobile apps offer a simplified interface and many of the core features available on the web version.
Canvas AI assistant
Canva AI assistant is one of the platform's most exciting features. The assistant, named "Canva Assistant," uses machine learning to suggest design elements and templates based on users' content.
By analyzing images and text, the assistant can streamline the design process, suggesting fonts, colors, and even layouts that would work well for specific projects.
The best part about this Magic Design is its customizability: you can add your own images, text, and branding elements to make the template truly yours. Whether you need a social media post or a business card, Canva Magic Design feature has got you covered.
This feature saves time and effort while helping users create visually appealing designs that meet their exact needs. With Canva Assistant as your creative partner, creating stunning designs has never been that easier!
Video editing with Canva
With Canva, users have the flexibility to edit videos seamlessly within the platform. Whether you want to add filters, effects or crop your media files, Canva offers a range of editing tools.
Furthermore, the video editor allows users to add text and graphics to their footage, making it easier to create engaging content for social media or website usage.
With its intuitive interface, Canva makes video editing accessible for even those who are new to graphic design
Creating presentations, documents, and charts using Canva
Canva is not just a design tool; it is also a versatile platform for creating presentations, documents, and charts. With Canva's extensive range of templates and design elements, users can customize their creations to suit their needs.
To create a presentation using Canva, simply select a template and then add your content and images.
For documents, users can choose from a variety of styles and layouts, and customize them with their text and graphics.
Creating charts in Canva also easy-choose the chart type you want to use, enter your data, and customize the design to match your brand.
Canva's flexibility makes it an excellent choice for those who value both design quality and efficiency.
Upload files
You may upload any file format (.jpg, SVG ,.png, etc.) to Canva, making it simple to include photos in your material. To upload or integrate images into the design canvas, you may also link them to Google Photos, Google Drive, Instagram, Facebook, and Dropbox.
Add Frame
Canva allows you to quickly add frames to your chosen photographs. You may add several types of Frames to the image. You can quickly add Laptop or even Phone frames to your photographs.
Manage projects and folders
Canva makes it incredibly simple to manage projects and folders. It enables you to build and maintain your designs and templates properly. It comes in handy while dealing with team members on Canva.
Content planner
Canva also offers a content planner tool that helps users plan out their social media posts, blog graphics, and other marketing materials in advance. These tools allow businesses to stay organized and ensure that they are consistently producing high-quality content.
With these features, Canva is an essential tool for businesses looking to establish a strong and consistent brand identity.
Canva Smartmockups
Another impressive feature of Canva is Smartmockups. This feature allows users to showcase their designs in a realistic setting, giving clients and stakeholders a better understanding of how the final product will look.
With Smartmockups, users can choose from a wide range of customizable templates, including laptops, mobile devices, billboards, and even clothing. This feature is a game-changer for businesses that require accurate visual representations of their products or services.
Resize images
The existing design can be simply scaled to any design ratio. The realization that you can keep your present design is the nicest part of this.
You may start a new tab with the current design in the appropriate ratio by simply clicking the copy and resize button. You won't change your current layout. But the size of the present design is altered when you click the "Resize" option.
Integration with LMS
Educators may utilize Canva to help their students learn. Learning management systems like Canvas, D2L, Google Classroom, Schoology, Blackboard, Moodle, and Microsoft Teams are all simple to connect with Canva.
Apply colors to Images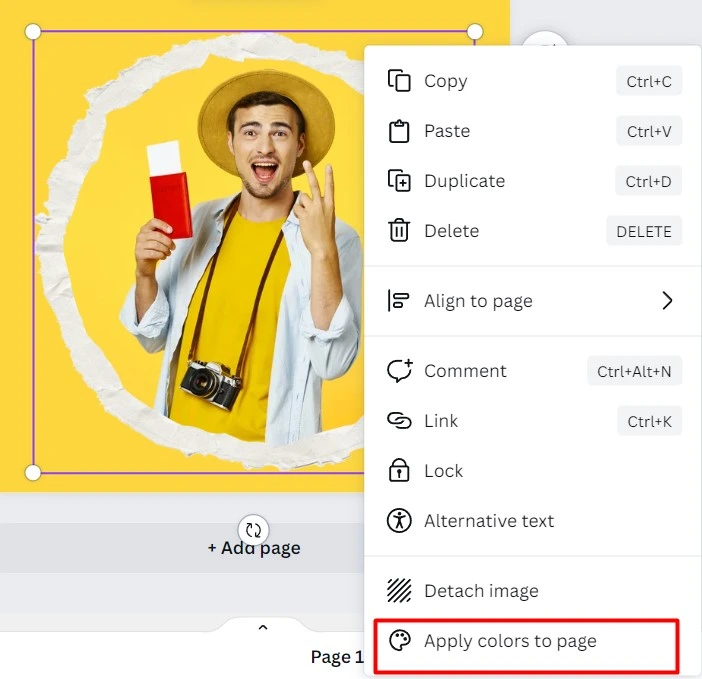 By choosing the picture and using the "Apply Color to Page" option, you can quickly add the image colors to your design. Any area of the image may be right-clicked at random to apply the colors and select the ones that work best for you.
Canva Visual Docs
You can create interesting and eye-catching documents, such as presentations and business reports, with the new Canva Visual Doc tool. You have a broad range of stylistic options available to you, including traditional presentation styles (beautiful thumbnails with white space around them), contemporary templates with small letters on a bright backdrop, and even full-on vector artwork if you want to go all out.
Canva Visual Doc includes numerous fantastic features that make it ideal for generating marketing materials or other tasks requiring graphics, in addition to being practical and user-friendly.
Canva Whiteboard
We are all aware of the value of whiteboard software nowadays. You may utilize Canva's Whiteboard feature to its fullest potential by using the collaboration option. On your whiteboard, you may draw sticky notes, shapes, stickers, and other things. The connections can be used to create flowcharts.
Social Media Posts
You can make social media posts with Canva that are impossible to ignore. With the most recent revisions, Canva has developed some extremely cutting-edge capabilities that allow you to give rectangles a radius, extract colors from photographs, and other things.
All of these capabilities help make it possible to produce some fantastic visuals for social media. Furthermore, Canva's wealth of templates help you to spend less time producing articles and more time concentrating on the substance of your images.
Numerous social networking platform templates are available on Canva, including Facebook posts, Instagram posts, Tiktok, YouTube thumbnails, Facebook covers, Twitter posts, Instagram Reels, YouTube intros and banners, Pinterest Pins, LinkedIn background images, and much more.
Text to Image
With the new Text to picture option that Canva has introduced, you can quickly turn text into a picture. For those that need to generate flyers or other marketing materials fast and efficiently, this straightforward application might be useful.
To create a picture from words, just enter the text and click "Create." Then, in a matter of minutes, your image will be ready! Another fantastic way that Canva upholds its dedication to making creative material simple and available to everyone is through Text to Image. The tool functions similarly to AI art generation tools.
Canva Integrations
Canva offers a wide range of integration possibilities. As a result, you can connect your Canva account to several well-known applications, like YouTube, Google Drive, Dropbox, Brandfetch, GIPHY, Draw, Pexels, Pixton, Brandfolder, Pixabay, Bitmoji, Hubspot, and many more.
These connections are also accessible through Tools > Discover Apps.
Each program is divided up into many categories, like Design Essentials, Productivity, Photo Editing, and many others.
Download Quality
You may download the graphics from Canva in the preferred resolution, format, and size. You can choose to download all pages at once, only chosen pages, or just the current page. To avoid having to configure the download settings each time you download, you may also save them.
Canva Courses
You may look at the Canvas courses page if you're new to the site. Interestingly, anybody may observe and gain insight from their classes, whether or not they are signed in.
In the video classes, a variety of topics have been covered, including presentations and logo creation. Since every video is expertly produced, you end up mastering Canva.
Canva Plans Pricing
Pro Plans
Canva Free– Rs. 0/ year for one person
Canva Pro– Rs. 3,999/ year for one person
Team Plans
Canva Free– Rs. 0/ year for one or more people
Canva for teams– Rs. 6,599/ year total for the first 5 people
Canva pricing model
Canva offers a range of pricing plans to cater to the specific design needs and budgets of its users. Choosing the right pricing plan for your needs is essential to make the most of Canva features. With both free and paid plans available, users have access to different levels of functionality based on their requirements.
The Free plan is perfect for beginners and includes basic design features, while the Pro plan, the paid version, offers advanced design tools and collaboration features, making it an ideal choice for businesses and professionals. Meanwhile, Canva for Enterprise is designed for larger teams who need additional brand management and team collaboration tools.
Each plan has its own set of limitations and benefits, so it's important to choose the one that best fits your needs. Whether you're an individual user or a large corporation, Canva has a pricing plan that can cater to your specific requirements.
Moreover, Canva offers a 30-day free trial of the Pro plan that allows users to experience premium features before making a purchase decision. Users can upgrade or downgrade their plans at any time based on their changing needs.
Canva Free Trial
Introducing a 30-day free trial for Canva Pro, the premium version of the popular design platform is a smart move by the company. It provides users with an opportunity to try out a wide range of design tools and features before deciding whether to commit to a paid subscription.
The free trial includes access to thousands of templates, stock photos, illustrations, and design elements that can be customized to suit your brand or project.
Canva's free trial is particularly beneficial for businesses looking to test out the software's capabilities before investing in a paid subscription. With no commitment required and the ability to cancel at any time, it's an excellent way for companies to explore the platform's potential and determine whether it meets their design needs.
Accessing a 30-day free trial of Canva Pro
By signing up for an account with payment information, users gain access to all of the advanced features, including unlimited storage, premium templates, and the ability to create custom fonts and color palettes.
This trial provides an excellent opportunity for individuals and businesses to test out the platform's capabilities before committing to a paid subscription.
Keep in mind that users can cancel their trial at any time before it ends to avoid being charged for the subscription.
Canva Performance and User Experience
Canva's sleek and intuitive user interface has made it a popular choice for designers of all levels. With a wide range of design templates, graphics, and fonts to choose from, as well as collaborative features that allow multiple team members to work on the same project simultaneously, Canva offers great value for money compared to other design software options.
Additionally, Canva mobile app allows users to design on the go, making it an ideal tool for busy professionals who need to create visuals on a tight schedule. The platform's subscription plans offer flexibility and affordability, allowing businesses and individuals alike to access the features they need without breaking the bank.
Canva Speed Performance and Upload Times
Canva performance speed and upload times have improved significantly in recent years, making it a top choice for businesses and individuals alike. The platform uses a content delivery network (CDN) to ensure that images and designs load quickly, which is critical when working on projects with tight deadlines.
Users can also optimize their designs for faster loading times by reducing image size and using optimized file formats. Moreover, the Canva mobile app is designed to be fast and user-friendly, allowing users to create designs on the go without any interruptions.
These improvements have contributed to Canva's growth and success, making it an incredibly popular design tool in 2023.
Canva competitors
While Canva is a popular choice for graphic design software, it's important to note that there are several competitors in the market. Adobe Photoshop, Illustrator, and InDesign come with more advanced features, but these programs also require a steeper learning curve and a higher price tag.
Canva offers both free and paid plans, with the paid plans providing additional features such as access to premium templates and unlimited storage. However, for those looking for a simpler design solution or who are just starting, Canva's user-friendly interface and affordable pricing make it an excellent choice.
FAQs
What is Canva👀?
Canva is an online graphic design tool that enables users to generate a variety of visual material, such as posters, presentations, flyers, and social media graphics😎. It has an intuitive user interface and a vast library of design materials including fonts, photos, and templates.
Why is Canva important in 2023👁‍🗨?
In 2023, Canva's user-friendly interface, customizable templates, and graphics will undoubtedly continue to be essential tools for individuals and businesses looking to create engaging visual content for social media, marketing materials, and more.
How to Use Canva🤷‍♀️?
To get started, simply select a template or create your design from scratch. With access to an extensive library of images, fonts, and graphics, you can customize every aspect of your design to fit your needs.
Once you're done, exporting your finished design in various file formats or sharing it directly on social media is simple with Canva.
And for those who need more advanced design options, Canva also offers premium features that are sure to take your designs to the next level.
Is Canva free🙋‍♀️?
Yes🤩, Canva offers a free plan that provides access to a variety of design tools and templates. However, it also offers premium plans with additional features and resources that require a subscription fee.
What are the benefits of using Canva🤷‍♂️?
Canva provides numerous benefits, such as:
👉User-friendly interface- Canva is designed to be intuitive and easy to use, making it accessible for both beginners and experienced designers.
👉Extensive template library- It offers a wide range of professionally designed templates, allowing users to quickly create visually appealing graphics.
👉Customization options- Users can easily customize templates by adding their text, images, colors, and other design elements.
👉Collaboration features- Canva enables real-time collaboration, making it easy for teams to work together on design projects.
👉Integrations- It integrates with various platforms, such as social media networks and cloud storage services, for seamless workflow integration.
Can I use Canva for commercial purposes🤔?
Yes🎊, Canva can be used for commercial purposes. However, it's important to review Canva licensing agreements and terms of use to ensure compliance with their guidelines. Canva offers a variety of licenses, including free and pro, each with specific usage terms.
Can I upload my images and fonts to Canva😵?
Yes✨, Canva allows you to upload your images and fonts. This feature enables users to incorporate their branding elements and personalize their designs further.
What are the limitations of the free version of Canva👀?
While the free version of Canva provides a range of design options, it does have certain limitations. Some limitations may include access to a limited number of templates, a smaller library of images and design elements, and restrictions on features like team collaboration and premium stock photos. Upgrading to a paid subscription unlocks additional resources and features.
How much does Canva's paid subscription cost💸?
Canva offers different pricing plans, including monthly and annual subscriptions. The cost varies based on the plan and features you choose. It's recommended to visit Canva's official website for the most up-to-date pricing information.
Can I cancel my Canva subscription🙋‍♂️?
Yes😌, you can always end your subscription to Canva. The cancellation process typically involves accessing your account settings and following the cancellation instructions provided by Canva.
What is the benefit of using Canva🤷‍♀️?
By using Canva instead of hiring a professional graphic designer for every project, businesses can save time and money while creating professional-looking designs that accurately represent their brand's aesthetic.
How can businesses benefit from Canva👀?
Businesses can highly benefit from Canva's versatile design tool that allows them to create marketing materials, presentations, and social media graphics. With a wide range of customizable templates and designs, teams can easily collaborate on projects and maintain brand consistency. Canva's paid version offers additional features such as custom fonts, a background remover tool, and the ability to create animated graphics.
Canva evolution in the past year
Canva has continued to grow and enhance its features over the past year, cementing its position as one of the most popular graphic design tools. The addition of Canva Pro, which offers more advanced design tools and collaboration features, was one of the most notable changes.
Additionally, Canva introduced new templates and design elements, such as animated graphics and audio integration, which have expanded the possibilities for creating engaging content.
The mobile app has also undergone significant improvements, making it easier than ever to create designs on the go.
Overall, these changes have contributed to Canva's rising popularity among professionals and beginners alike in the graphic design world.
Over to you with Canva Review 2023
Canva is an excellent tool for businesses and individuals who require professional and visually compelling designs. Its user-friendly interface combined with its limitless design assets like templates, stock photos, videos, audio access, and animations makes it an indispensable asset for businesses.
Its versatility and ease of use have made it popular among individuals, small businesses, and even larger organizations. Its free version provides a good range of features, while a subscription-based model called Canva Pro offers additional benefits like access to premium templates, advanced design functionalities, and collaboration features.
Although some limitations exist, Canva has improved significantly in terms of UX design and performance speed over the years. It's important to note that software and online services can evolve, so it's a good idea to check for recent reviews and updates to get the most accurate and up-to-date information on Canva's performance and features in 2023.
To get started with Canva, sign up for a 30-day free trial of Canva Pro today!