For a number of reasons, our generation really needs free music and sound effects. In the more linked and digitalized world we live in, it first and foremost assures legal compliance. The use of copyrighted music without the correct licensing can have serious repercussions, including legal penalties and content takedowns, therefore copyright infringement is a major problem.
Music creators have a hassle-free option thanks to royalty-free music and sound effects(SFX), which enables them to concentrate on their artistic endeavors without worrying about legal implications.
In this generation, the adaptability and flexibility of royalty-free music are also essential. It can be applied to various tasks and mediums, including podcast episodes, social media postings, presentations, and video commercials.
The overall viewing or listening experience is improved by the depth, emotion, and professionalism added by royalty-free music to the content. Additionally, producers are free to alter the music tracks to meet their individual requirements, including changing the length, adding or removing components, or looping select sections to match the rhythm of their productions.
Royalty-free music is easily available and reasonably priced, making it a desirable choice for composers, especially those with tight budgets. Traditional music licensing involves discussions, contracts, and continuous royalties payments; it can be costly and time-consuming. Alternatively, royalty-free music platforms provide affordable licensing choices that accommodate a range of budgets.
Another important aspect fueling the demand for royalty-free music & sound effects is time efficiency. Workflows that are simplified are crucial in the current, fast-paced digital environment.
In particular, on networks like YouTube, royalty-free music aids creators in avoiding Content ID claims. Copyrighted music used in videos is identified by content identification systems, which can lead to content complaints, monetization problems, or even the removal of the content.
Creators can avoid these work ID claims and guarantee that their work is unaffected by them by using royalty-free music. By doing so, they can concentrate on connecting with their audience and establishing their online profile.
In this article, We will take in each platform, considering things like music quality, licensing choices, user experience, and extra features. Knowing the resource's advantages and disadvantages will help you confidently select the most appropriate platform for your unique creative needs.
Best Resources for Royalty-Free Music & Sound Effects in 2023
Epidemic Sound
An established music business called Epidemic Sound is changing how content creators may access and use music. Epidemic Sound was established in 2009 as a result of the creators' unhappiness with the complications and limitations of conventional music licensing.
The company's goal is to give producers access to a sizable library of music that is available without a license, enabling them to convey their tales and enthrall listeners all around the world.
In the past, licensing music for artistic endeavors required difficult negotiations, expensive fees, and usage restrictions.
However, Epidemic Sound revolutionized the industry by providing the revolutionary idea of royalty-free music. Creators have the ability to utilize any track without worrying about copyright claims or additional payments thanks to a sizable music collection that includes thousands of tracks in different genres and moods.
Pricing- $4/month
MotionElements
The expanding need for high-quality digital assets in the current digital era is being met by MotionElements, a well-known online marketplace. When MotionElements was established in 2010, its goal was to offer a complete solution to content producers looking for high-quality digital assets.
MotionElements has become a global platform over time, servicing a diversified user base from various sectors and geographical locations. The huge content collection that houses millions of digital assets in a variety of categories is the foundation of MotionElements.
The variety of content available to users includes stock films, motion graphics, audio tracks, 3D models, and more. The marketplace makes certain that only premium content—meeting the strict criteria needed for professional projects—reaches the platform.
Pricing- $16.50/month
Uppbeat
In 2020, Uppbeat.io was introduced with the goal of revolutionizing the music licensing industry for content producers. The founders were aware of the difficulties artists had in locating reasonably priced, excellent music that suited the particular needs of their projects.
Traditional licensing approaches were frequently pricey, cumbersome, and slow, which hampered the creative process.
Specifically created for content producers, Uppbeat.io is a ground-breaking music platform that gives them access to a huge library of high-quality, royalty-free songs that may elevate their projects.
Uppbeat.io has swiftly emerged as a go-to source for video creators looking for excellent music to improve their work thanks to its user-friendly interface, adaptable licensing choices, and carefully curated library of music.
Pricing- $5.59/month
Musopen
With its extensive library of classical music that is available without any licensing fees, Musopen, a well-known nonprofit, provides a special alternative.
Musopen enables content producers to add top-notch music to their works without being restricted by conventional licensing methods by offering open access to a variety of classical pieces.
The outstanding classical music collection available on Musopen is royalty-free and includes compositions by well-known composers from a range of eras, genres, and styles.
A wide variety of choral works, concertos, sonatas, symphonies, and other pieces are available for creators to peruse and choose from. Content producers can use these classic works without worrying about copyright violations or continuous royalty payments thanks to Musopen's commitment to providing royalty-free music.
Pricing- Free
PremiumBeat
Music is a potent instrument for setting the tone, evoking feelings, and enhancing the overall effect of visual content in the realm of creative undertakings. A well-known online music licensing site called PremiumBeat provides a wide range of top-notch, royalty-free music tracks to meet the various demands of content producers, filmmakers, and companies.
With its emphasis on high-quality music, user-friendly design, and wide range of licensing choices, PremiumBeat has established itself as a go-to source for professionals looking for outstanding music to enhance their projects.
The music search and selection procedure is made easier with PremiumBeat's user-friendly interface. Users may navigate through the huge music catalog with ease because of the platform's simple interface and straightforward navigation. Users can filter their searches using the advanced search tool based on a variety of factors, including genre, mood, pace, instrument, and more.
Pricing-
Mixkit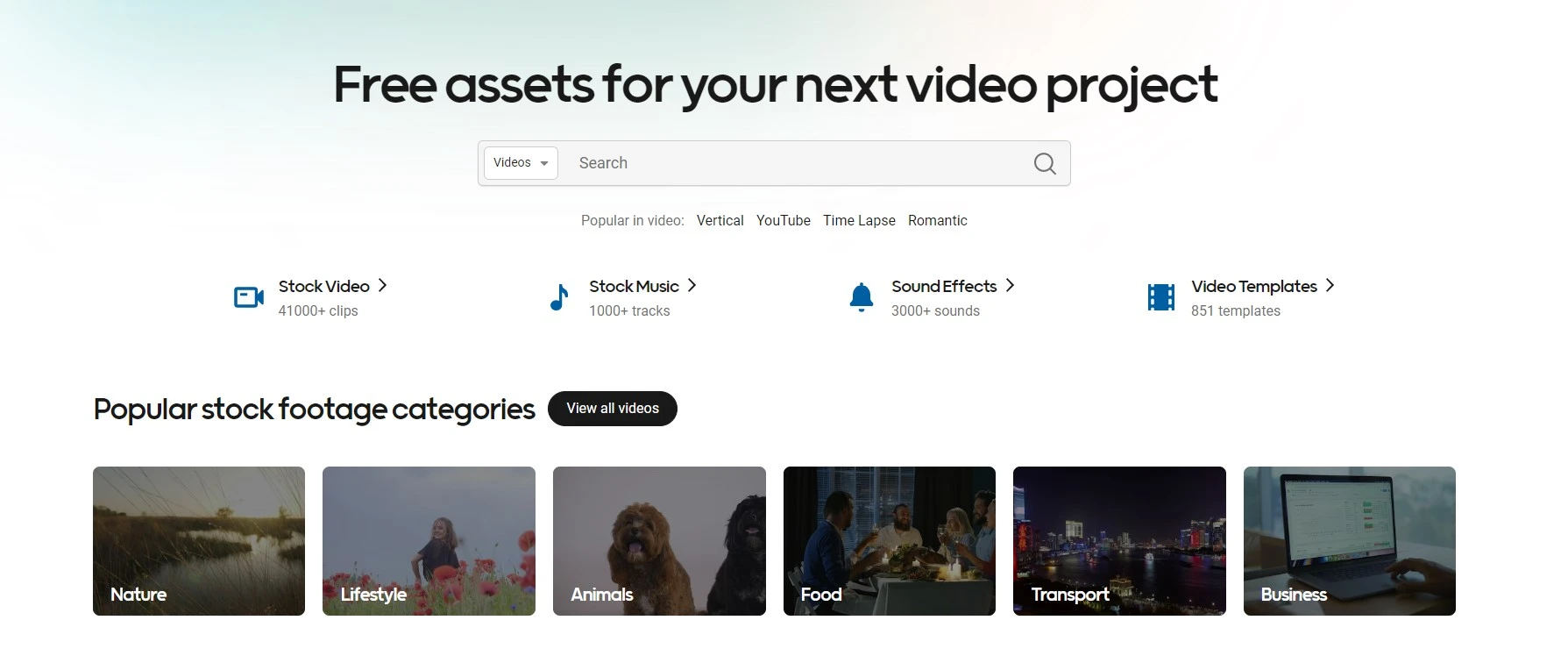 For creators looking for high-quality, royalty-free media assets to improve their work, Mixkit is a superb resource. Mixkit is a one-stop platform for finding the ideal components to enhance your creative endeavors. It has a huge library of films, music tracks, sound effects, and graphic layouts.
Mixkit stands out for its dedication to quality, providing visually attractive and expertly produced entertainment. You can find the perfect assets to match the tone and message of your project on the site thanks to its wide selection of themes and styles.
If you're a filmmaker, advertiser, or content creator, Mixkit has a large collection of assets that are available for free download and use even for profit. Mixkit gives creators leverage through simple navigation, clear licensing, and regular updates.
Pricing- Free
Youtube Audio Library
The YouTube Audio Library is a platform that YouTube offers that gives content producers access to a vast library of royalty-free music and sound effects to improve their films. It is a helpful tool for individuals looking for high-quality audio to enhance their work without having to worry about copyright violations or licensing costs.
The collection caters to a wide variety of creative demands by providing a diverse range of musical genres, instrumental tracks, and sound effects.
The YouTube Audio Library's extensive selection of songs enables producers to quickly search for and choose music that complements the tone and subject matter of their films.
The option to filter search results based on preferred attribution criteria is another noteworthy feature of the YouTube Audio Library. Creators have the option to filter out songs that demand attribution, which means they must give the original artist credit in the description of their video.
This function is very useful for people who want to properly thank the musicians while still having access to a large number of songs.
Pricing:- Free to use
Artlist
For content producers, filmmakers, and multimedia designers, Artlist is a well-known platform that offers a huge and varied selection of royalty-free music tracks. Artlist has made a name for itself in the creative business as a go-to resource thanks to its user-friendly interface, large audio catalog, and flexible licensing choices.
The dedication to excellence at Artlist goes beyond its music collection. The platform makes sure that every piece of music is produced to a high standard. Talented composers, musicians, and producers created and performed the music, resulting in tracks with high-quality audio and painstaking attention to detail.
This dedication to excellence makes it possible for creators to locate music that raises the general production value of their works.
Pricing:- starting at $9.99/month
Purple Planet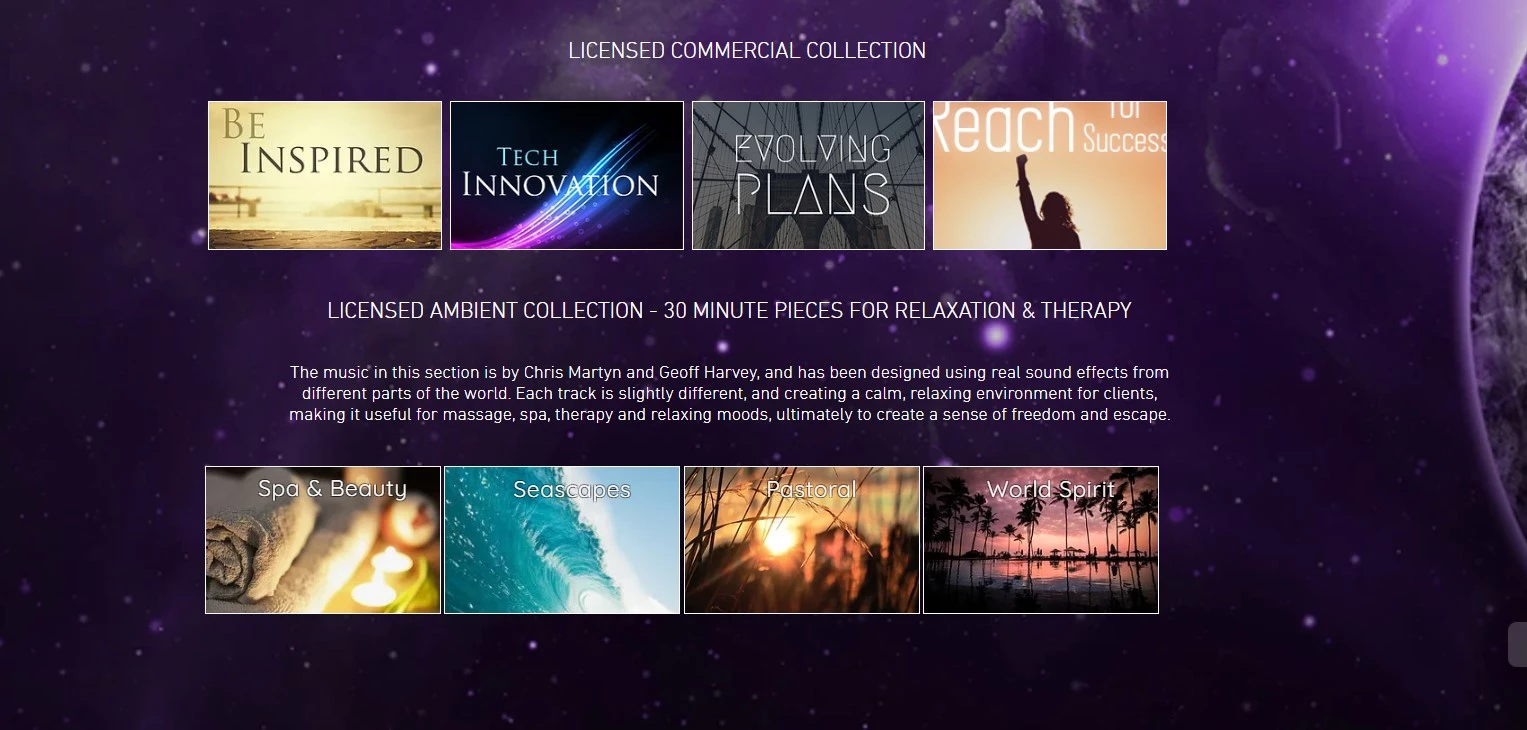 Purple Planet is a flexible and feature-rich program created to offer a sizable collection of top-notch, royalty-free music and sound effects to content producers, filmmakers, podcasters, and multimedia producers.
Purple Planet is an all-in-one solution for locating, personalizing, and incorporating audio pieces into a variety of projects thanks to its vast collection, user-friendly interface, and sophisticated functionalities. The huge variety of musical tracks and sound effects that make up Purple Planet provide its foundation.
The collection includes music from many different genres, such as orchestral, pop, rock, electronic, and more. Purple Planet provides a wide variety of songs to meet every creative requirement, whether you're seeking a dramatic score for a movie, a catchy song for a commercial, or ambient noises for a podcast.
Pricing:- starting with $8 for a standard license
Hooksounds
A large library of top-notch, royalty-free music tracks is accessible to content producers, filmmakers, and multimedia producers through the cutting-edge software platform Hooksounds.
Hooksounds offers an easy way to locate, adapt, and incorporate audio elements into a variety of projects thanks to its huge library, user-friendly interface, and cutting-edge functionality.
Additionally, Hooksounds provides a thorough audio editing tool that enables users to modify recordings in accordance with their own requirements. Trimming, fading, and volume control are some of the precise modifications that are possible using the built-in editor.
The audio tracks can simply be modified by users to fit the required tempo, mood, or parts of their work. With this much flexibility, designers may design a distinctive audio experience that exactly matches their graphics.
Pricing:- $14.99/month
Soundstripe
Beyond just offering music, Soundstripe also has a huge library of excellent sound effects. The sound effects collection includes a wide variety of audio elements to enrich projects and create immersive experiences, ranging from mechanical noises, explosions, and futuristic sounds to natural sounds like rain, wind, and footfall to natural sounds like rain, wind, and footsteps.
These expertly made sound effects give depth and authenticity to the auditory environment of films, animations, games, and other multimedia projects by being simple to incorporate into them.
Soundstripe offers a platform for effective team collaboration. Users can easily start projects, assemble teams, and share audio files. In order to facilitate effective cooperation and a seamless workflow, this feature is especially helpful for groups or people working on collaborative projects in the content creation industry.
Team members can access the necessary audio tracks, download them, provide comments and suggestions, and make sure the audio experience is consistent across the entire project.
Pricing:- $9.99/month
Why choose Royalty-free music?
The advantages of using royalty-free music for multimedia producers, filmmakers, and content producers are numerous. The idea of royalty-free music will be thoroughly discussed in this part, along with the reasons it is favored in the creative sector.
Users can legally use music in their projects with the help of a type of music licensing known as "royalty-free music" without having to pay ongoing royalties or use fees. For a variety of multimedia projects, such as movies, commercials, podcasts, presentations, and more, it offers a useful approach to obtaining top-notch music tracks.
The ease and simplicity that royalty-free music provides is one of its main benefits. Traditional music licensing can be a difficult and drawn-out procedure that involves discussions, contracts, and ongoing payments. Users who purchase or subscribe to royalty-free music have the freedom to use it anyway they like without incurring any further fees or commitments. The licensing procedure is streamlined as a result, saving creators important time and effort.
The adaptability and freedom that royalty-free music offers are also quite beneficial. Users are free to use the music in as many projects as they like once they have the required license. Due to their adaptability, music tracks can be used affordably in a variety of media formats, such as internet videos, social media posts, podcasts, and more.
Additionally, a wide variety of genres, styles, and moods are available in royalty-free music to meet the needs of various projects. Reputable royalty-free music providers focus on supplying top-notch music tracks in a variety of genres, including cinematic, electronic, pop, rock, folk, and more, while curating their collections. This makes it possible for content producers to select music that perfectly captures the mood, feeling, and tone they wish to communicate in their works.
Furthermore, royalty-free music services frequently update their catalogs so that users always have access to the most recent and pertinent music. This helps musicians identify music that adheres to current industry standards and consumer preferences while keeping the music choices updated with emerging trends.
FAQs
What is royalty-free music?
A sort of music licensing known as "royalty-free music" enables users to include the music in their projects without having to pay continuing royalties or use fees. For those who need music for their projects but do not want to deal with the difficulties and costs of conventional licensing arrangements, it is a cost-effective solution.
Are there free options available for royalty-free music?
Yes, there are options accessible for free music that isn't restricted. There are websites and platforms that offer a selection of music tracks that can be utilized for free, even though many royalty-free music platforms demand a one-time cost or a subscription for access to their premium music collections.
Do these resources provide high-quality music tracks?
Yes, these sites for royalty-free music frequently offer songs of a high caliber. The platforms carefully select the music in their libraries so that it satisfies the demands of content producers and multimedia projects. Although the caliber of the music may fluctuate between platforms and between individual tracks, reliable providers normally make sure that the music they provide is of good quality.
How important is it to use a reliable site for music?
Using reliable sources for sound is very essential whether you are using the music for personal use or commercial use. It not only saves your brand reputation but also helps in avoiding copyright claims.
Conclusion
A wide range of possibilities for enhancing projects are now available to content producers, filmmakers, and multimedia producers thanks to recent improvements in the accessibility of high-quality royalty-free music. The top royalty-free music providers provide extensive collections, user-friendly interfaces, cutting-edge customizing tools, and flexible licensing options.
These services' user-friendly interfaces make it simple to browse, search, and find the ideal music for particular projects. Users may easily select the ideal tunes that match the tone and ambiance they want by using categories, filters, and search functionality based on mood, pace, and instrumentation. Additionally, the flexibility of track length and the use of integrated editing tools enable producers to adapt the music to the demands of their particular projects, guaranteeing a harmonious combination of audio and graphics.
The variety of licensing possibilities available with these resources is one of its main benefits. All of the provided tracks are royalty-free, allowing users to use the music in their projects without being concerned about ongoing costs or copyright violations.
These resources enhance projects' audio environments by going beyond music and frequently including sound effects libraries. The sound effects collections provide a wide variety of audio elements, from organic sounds to mechanical noises and futuristic effects, to give depth, realism, and immersive experiences to multimedia productions.
Having access to free solutions within these sites also helps people on a tight budget. Even though the selection could be more constrained, meticulous research can result in the discovery of top-notch music tracks that are ideal for particular projects. When using free music, it's crucial to read the licensing conditions and follow any crediting guidelines.