Teachable is a very popular course-selling and course-creation platform. Its platform allows course creators to build, market, and sell courses and coaching services. This gives teachers better control over their courses and more opportunities for monetizing their content through course sales. The platform offers a variety of features, including access to a community for course creators and the ability for creators to build courses without writing code.
There are plenty of different platforms out there, but Teachable is undoubtedly a strong competitor to the likes of Udemy.com and Coursera.com. In this post, We will look at the main features of Teachable and help you decide if it is the right platform for you.
This blog is designed to look at the significant features of this software and how they can be used. We will also look at the positive and negative aspects of this software.
Teachable Overview
Teachable was started in 2013 By Ankur Nagpal. Ankur Nagpal is the CEO and Founder of this million-dollar company. The company's mission is to make it easy for anyone to create and sell online courses. Teachable is headquartered in New York City and has a team of over 50 employees. The company has raised millions of $ in funding from investors such as Accel Partners, Stripes Group, and RRE Ventures.
How to Create a Course with Teachable
Let's talk about how to create an Online Course step by step.
Firstly you have to go to Setup your school section, where you can name your school. Click "Edit School name".
Here you can edit "School name" and "Business name." You can change this information whenever you want to change or edit it.
To begin with, let's create a course. Go to the "Course" section and click "New Course."
Then just write a "Course Title" and select an "Author", then press the Continue button.
Boom! Your course is created. Now, you can upload your brand image; this image can be shown only thumbnail or course banner. The image recommended format is 3840 x 2160 or 1920 x 1080 pixels.
You are all set now, Click on "Information" here you can Publish & Preview your course.
Here you edit that information anytime whenever you need to change it.
Add Course Content
To add course content, click on "Curriculum." You'll need to create sections and lectures before adding any content. Sections are groupings of lectures (modules of course lessons), and lectures are individual course lessons.
To create a lecture click on "Add new lecture". To create a new section click on "New Section".
To edit your course details, click on Edit Lecture. Here you can add your course-related video, file, text, quiz, custom code, code example, add upsell. After adding all, you can check your course preview by clicking on "preview".
If you want to upload many videos at the same time. you have to click on bulk upload and drag all your video files here.
Design your course
To design the course, you have to go to the "Site" section, here you get many presets. You can choose any of these according to your choice.
Pricing your course in Teachable
As an instructor, you have the ability to set multiple prices for your course. This can be done by creating different pricing plans. There are four pricing plans: free, subscription, one-time purchase, and payment. You can create different pricing plans to fit the needs of your students. For example –
To add the pricing details of your course, go to the "Pricing" section, then click on "Add Pricing Plan."
Here are the different kinds of ways to price the course. Set-by-step, you can add the pricing of your course.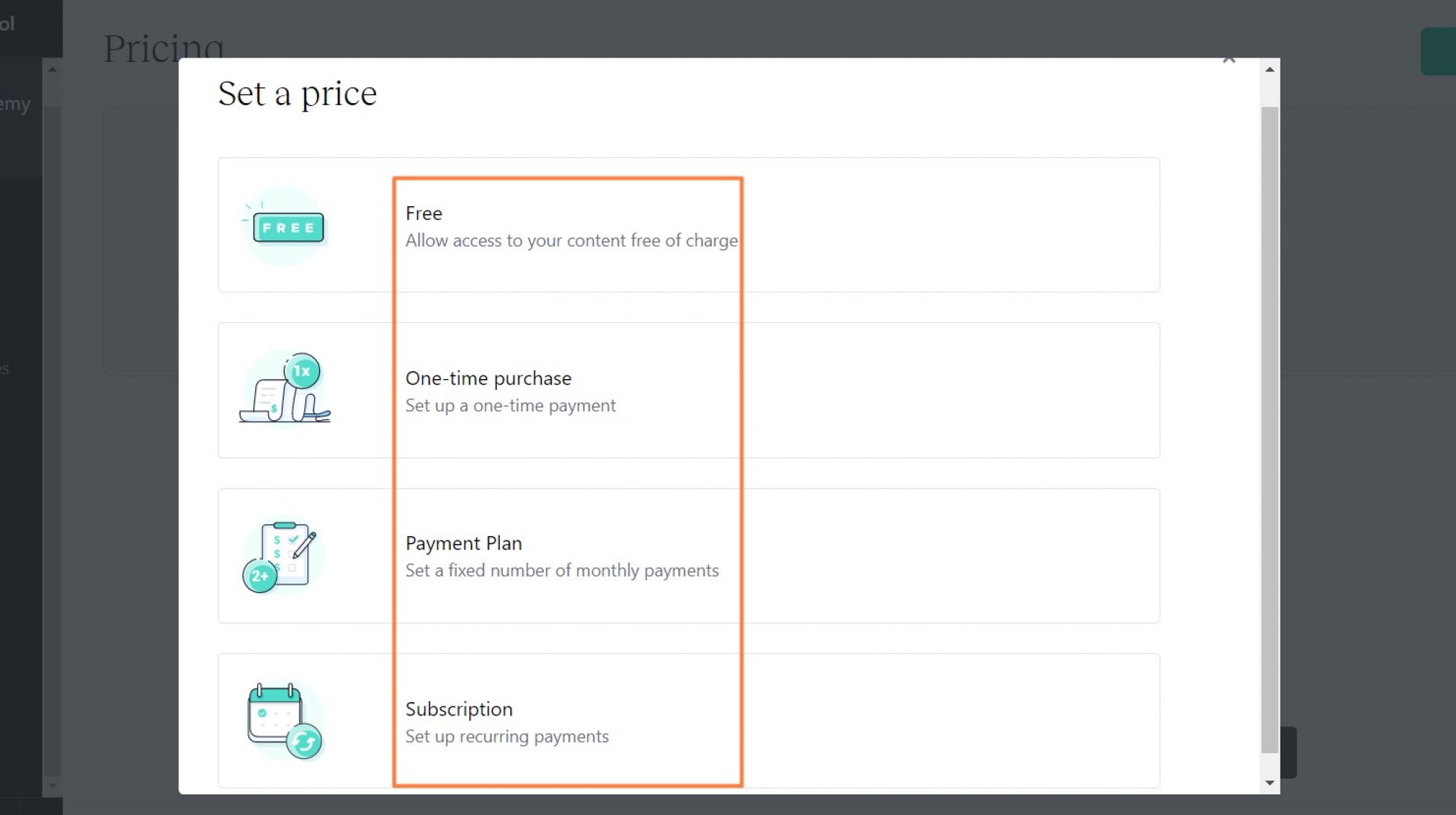 In the free plan, you can just give the name of your plan, add a subtitle of your plan and add a long description here.
In the One-time purchase plan, just choose the currency, enter the Plan price, add the plan name, give the subtitle and add a description of your plan, then click on create a plan.
In the next section of the payment plan, you can set a fixed number of monthly payments. choose the currency, add the amount, set the number of monthly payments, add the plan name, subtitle, and detailed description, then press adds payment plan.
You can create your course-related order bumps; you have to click on "Order bumps" and then click on "Create Order bump".
Order Bumps in Teachable
After creating the pricing plan, you can set up your course order bump. Order bump allows you to add courses to the checkout pages, and users can add them to the cart with a single click. It allows more sales and increased revenue.
You must select the primary product pricing and order bump pricing plans, then click on the next.
In the following popup, give your users some discount if you want. Fill in the Order Bump information such as Check box text, Headline, and Description.
Now click on "Add Order Bump," and your order bump will be created. You will now be able to publish or unpublish the order bump without having to delete it when not required.
Pages
In the pages section, you can see three different sections people go through to purchase the course.
First, you will see the "SALES" page where students can buy your course.
On the "CHECKOUT" page, people were to click on the button to checkout and purchase your course.
The last section, " THANKYOU," will be shown after students purchase your course to welcome them.
You can always opt to create new pages by navigating to Site > Pages
Now you can edit the page, add new blocks and publish them when ready.
Drip Content
Drip is a great way to publish lectures over a period of time. This is especially useful if you have a lot of students enrolling in your course.
By using Drip, you can control how many days after your students enroll they will receive the lecture. This allows you to tailor your lectures to your students' schedules and ensure everyone gets the most out of your course. You can also set email announcements for your drip content.
Coupons
Coupons are a great way to sell your products at a reduced price. By offering limited-time discount codes, you can encourage customers to buy your products now rather than wait. This can help you move inventory quickly and boost your sales. Plus, coupons can also help you attract new customers. So if you're looking for a way to increase sales and attract new business, coupons are a great option.
Create Quizzes
Teachers can use Teachable to create multiple-choice quizzes for their students. This is a convenient way to see the students' progress. The quizzes can be customized to fit the needs of the teacher and the students.
Coaching Sessions
Teachable course provides coaching session to their students to help them improve their performance. The coaching session is conducted by a professional coach with extensive field experience. The coach will help the students to identify their strengths and weaknesses and to develop a plan to improve their performance.
Set up Emails
If you purchased a premium plan of teachable, you could set up emails, which helps to create a good customer experience. By setting up email notifications, you can let your customers know when new courses or updates are available. This way, they can always be in the loop and won't miss out on anything important. You can ensure that your customers always have a positive experience when they open your messages.
Course Certification
This feature is available for Professional, Business, and Enterprise plans. With this feature, you can create certificates for your students. Certificates are a great way to keep track of your student's achievements and also a great addition to their resumes.
Comments
In the comments section, when you turn on your lectures, you foster student engagement and interact directly with students. This allows you to get feedback from students in real time and also allows you to gauge student interest and engagement. Additionally, students are more likely to remember and retain information when they are actively engaged in the learning process. Therefore, by turning comments on in your lectures, you positively impact student learning.
Teachable Pricing
Let's talk about Teachable pricing. Teachable offers a 14-day free trial; you can use teachable for free for 14 days.
There are three types of pricing plans for teachable. The free plan allows you to create and host a course with up to 10 students.
The first is the basic plan, which costs $39 per month and allows you to create and host a course with up to 100 students. The second is the pro plan, which costs $119 per month and allows you to create and host a course with up to 1000 students. And the last Business (advanced) plan starts from $299 per month; you can customize anything and get unlimited features there.
Basic Plan- starting from $39/month
Pro Plan- starting from $119/month
Business Plan:- $299/month
Teachable Pros and Cons
Pros:-
• Simple, easy to use, and accessible from any device.
• Intelligent tools that automatically generate course content, allowing you to focus on topics you are most interested in.
• Discover and promote the best-selling courses, making it easier for you to promote the content that you love.
• Teachable is highly advanced software that allows you to create your own online course in under 30 minutes.
Cons:-
• Bad Email support, sometimes teachable not responding to customers' emails.
• You can not use Bulk student enrollment even in the pro plan, It can be used only in the Business plan.
• In the basic plan, Teachable charges a 5% transaction fee.
• With Teachable, you can create a limited course(products)
• Teachable didn't provide a Dedicated customer success manager in basic and pro plans; it can be allowed in business plans.
Teachable Customer Support
There are three levels of customer support offered by Teachable: Basic, Premium, and Enterprise. Basic level support includes access to their customer service team during business hours, while Premium and Enterprise level support includes 24/7 access to their customer service team. Enterprise-level support also includes a dedicated account manager.
Teachable Alternatives
Kajabi
Thinkific
Podia
New Zenler
Udemy
Kajabi
Kajabi is an award-winning e-commerce platform that empowers you to build a profitable business by teaching others what you know. It is easy to use and has a wide range of features that make it an ideal choice for online courses.
The platform is user-friendly and has a simple interface that makes it easy to navigate. It also has a wide range of templates and designs that make it easy to create an online course. Kajabi makes it easy to create and sell courses online.
Whether you're looking for a simple way to launch your first product or are ready to create a dynamic online marketplace, we've got the tools and support you need to succeed.
Thinkific
Thinkific is the leading platform for creating, marketing, selling, and delivering courses online. Thinkific provides everything you need to create, market, sell, and deliver your courses, including powerful course creation tools, comprehensive marketing and sales features, and world-class support and delivery.
Thinkific helps over 200,000 students from around the world stay ahead of the curve by providing industry-leading tools for creating courses, marketing courses, delivering courses, and selling course content.
Podia
Podia is a course builder and course-selling platform that enables you to easily create and sell online courses. With Podia, you can upload your course content, set your price, and start selling in minutes. There's no need to worry about hosting or streaming your courses, as Podia takes care of all of that for you. Plus, your courses will look great on any device, thanks to Podia's responsive design. So if you're looking for an easy way to sell online courses, look no further than Podia.
New Zenler
Zenler is a course creation platform that focuses on providing innovative tools for creating and managing high-end interactive learning. With Zenler, you can easily create and manage your courses, as well as create and manage your students' learning experiences. Zenler provides you with everything you need to create and manage high-quality e-learning courses. It's not just another e-learning platform; it's an engaging and interactive platform for your users that doesn't require any additional hardware or software.
Udemy
Online courses and online learning have become an integral part of many people's education. With over 30,000 instructors and 11 million students around the world, Udemy is the global marketplace for teaching and learning online. Whether you're looking to advance your career or explore a new passion like photography, web development, or even yoga, Udemy has the world's best experts in every subject you can imagine. So whether you're looking to advance your career or explore a new hobby, Udemy has something for everyone.
Over to You
If you enjoyed our post on how to create courses on teachable, we're sure you'll find creating your own online course. With teachable, you have all the tools you need to create and deliver high-quality courses right at your fingertips. Its easy-to-use interface makes creating and managing your courses a snap.
Thank you for reading our blog!
FAQs
Is teachable free to use?
Yes, teachable is free to use. You can use it to create and share your courses or to access and participate in courses created by others. There is no charge for using teachable, and no subscription is required. Teachable provides 14 days free trial.
Is Teachable use profitable?
Yes, teachable software is used to be profitable. It can help you to make money by teaching people how to use it.
There are many ways to use teachable software to make money. You can use it to create online courses, sell products, or provide services. You can also use it to create a blog or website.
There are many ways to use teachable software to make money. You can use it to create online courses, sell products, or provide services. You can also use it to create a blog or website.
Why use teachable?
There are many reasons to use teachable. It is a great platform for creating and selling online courses. It is easy to use and has many features that make it an excellent choice for online instructors.
Some of the great features of teachable include the ability to create and sell courses, the ability to create a custom URL for your courses, the ability to offer discounts and coupons, and the ability to track your student's progress.
Can I use Teachable on mobile?
Yes, you can use teachable on a mobile phone. The app is available for both Android and iOS devices. You can use the app to create and manage your courses and track your student's progress.
How many courses can you create in Teachable?
There is no limit to the number of courses you can create with teachable. You can create as many courses as you want, and there are no restrictions on the topics you can cover.
This makes teachable an excellent platform for educators who want to create a comprehensive curriculum for their students. Additionally, teachable makes it easy to share your courses with others, so you can collaborate with other educators to create even more courses.